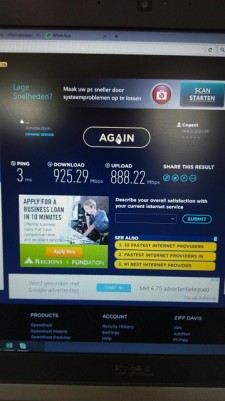 This mutually beneficial partnership will empower Angie to deploy its 5G Primed network rapidly across multiple cities and nations, where the company will deliver on its sea-change promise of the most superior fiber-backhauled platform.
LOS ANGELES, Calif., May 16, 2017 (Newswire.com) - Angie Communications, a newly launched multi-nation Internet Service Provider that specializes in multi-gigabit connectivity, and part of the world's largest telecoms start-up in terms of projects, and Fibrolan Ltd, a specialist communications infrastructure firm based in Yokneam, Israel, today announced the signing of a major vendor financing agreement, valued at up to US$15 Million, to support Angie's multi-nation 5G Primed network roll-outs, following their successful close collaboration to deliver initial projects in the Netherlands.
Angie is building the world's only multi-nation multi-purpose next-generation communications infrastructure, anchored on optical fiber infrastructure that the firm either directly owns or leases from — or builds in cooperation with — some of the world's largest fiber network operators. In aggregate, Angie will connect its Wireless Extreme subscribers to multi-ten terabit pipes. Angie's deployment of Fibrolan's Falcon series for fiber backhaul purposes throughout its global projects makes Angie a key and strategic Fibrolan partner.
The Angie team pioneered the FTTH (Fiber-To-The-Home) industry back in 2000, and while novel access solutions are very rare to come by, after FTTH, the team is now pioneering 5G primed Wireless Extreme access that will diminish the need for cable and DSL or even FTTH connections. As such, it is a major strategic aim for Angie to team up with sector-specific partners, such as Fibrolan, who fully appreciate the intrinsic multiple bottom-line value, significant rewards, major economic and technological hurdles being overcome, and realization of Angie's promises across all vertical sectors.
With its Ultra-Intelligent Switching devices, Fibrolan's flagship Falcon series has entered its 3rd generation. Networks based on Falcon systems offer advanced capabilities, with 1G, 2.5G and 10G interfaces, operating at full wire speed performance and capable of unique and highly flexible packet processing and network control, thus empowering Angie to operate the most state-of-the-art fiber-backhauled wireless access network. The Falcon also future-proofs Angie's deployments with unique flexibilities that enable the company to cater for mobile technologies such as LTE and 5G small cells, and a broad set of enhancements to optimize network function and performance.
Shamir Stein, CEO of Fibrolan, stated on working with Angie: "The close partnership between Angie and Fibrolan was the result of a perfect match between our companies. Fibrolan provides its advanced solutions, along with more than 20 years of global experience in design, production and delivery of access infrastructure. Moreover, the agile nature of both companies has been excellent grounds for co-development of highly optimized solutions for Angie's deployments, resulting in a world-leading, unparalleled and extremely competitive network."
Neal Lachman, CEO of Angie Communications, said, "To be truly pioneering and innovative, Angie is bonding strong partnerships with technology vendors who share a similar spirit and attitude. Fibrolan is a strategic partner in practically all aspects. With their customized Falcon solution that is developed on the basis of Angie's specific infrastructure design and deployment models, we now have a purpose-built product that stands at the core of Angie's multi-10-gigabit local fiber backhaul networks. Our first deployments with Fibrolan are in Rotterdam and Amsterdam in the Netherlands, with other cities rapidly starting up in the UK and the USA. Being pioneers in next-generation communications, we are already discussing future solutions with Fibrolan for outdoor as well as indoor networking."
Previously, Fibrolan and Angie announced that the firms finalized their joint research efforts and were now able to implement the most innovative deployment methods and equipment in all Angie markets. Earlier, Fibrolan and Angie formed a technology consortium with Access Point technology pioneer IgniteNet and mmwave technology pioneer Elva-1 to benefit Angie's ambitious plans with purpose-built and customized technological solutions. The consortium published its "blueprint," laying out the building blocks of 5G wireless infrastructures, on May 8. The document had an immediate effect on the communications industry and will continue to make waves, as it is the first real-life deployment and business blueprint for 5G networks.
This mutually beneficial partnership will:
Empower Angie to deploy its 5G Primed network rapidly across multiple cities and nations, where the company will deliver on its sea-change promise of the most superior fiber-backhauled platform that the industry has ever seen in terms of access ubiquity, highest performance, lowest latency, greatest capacity, maximum scalability, and easiest deployment/connectivity, to enable all-pervasive applications such as High Definition Networked Virtual Reality, Smart-Cities-as-a-Platform, IoT, Connected-Everything, and Mobile Backhaul. All this, extremely cost-effectively, and at end-customer price-points that are truly affordable by the masses — be they individual residents or businesses of all sizes. In effect, with partners such as Fibrolan, Angie is entirely disrupting existing markets, and shaping and leading new ones.
Enable Angie to roll out and rapidly establish multiple city-wide 5G Primed Infrastructure Networks — based on the densest fiber backhauled network in a grid-like fashion, where the entire Networked Virtual Reality, Smart-Cities-as-a-Platform, IoT, Connected-Everything, and Mobile Backhaul eco-systems, across any or all vertical sectors, can serve as actual commercial initiatives in addition to what Angie terms 'Live Labs,' which provide real-world and city-wide test bed environments for R&D work by eco-system partners. With Angie thereby serving as one of Fibrolan's most prominent customers, and being established as the most significant next-generation communications player in the fiber industry.
Angie and its technology partners, including Fibrolan, have all the pieces of the puzzle figured out, the optimal blueprint model devised (business, financial, and technological), with proven live sites in place to replicate, scale, move, and deliver extremely fast.
Further information:
About Angie Communications
Angie was founded by an international team of highly qualified technology professionals. Angie's team includes renowned visionaries and industry pioneers who have helped shape the Fiber-To-The Premises, 4G mobile and 5G wireless industries. Angie's founding team has a combined 500+ years of experience in business; its executive team consists of industry pioneers and experts with a combined 300 years of telecom experience.
Angie is proud Partner Sponsor of the Broadband World Forum in Berlin, 24-26 October, 2017, where the consortium partners will be present at Angie's 100+ square meter information booth. Angie's CEO will be a keynote speaker on October 25.
For more information about Angie's Gigabit Wireless Extreme projects, please visit www.angiewireless.com/news or watch the explainer video with NBA Hall of Fame legend and Angie angel investor Rick Barry, here.
About Fibrolan
Founded in 1996, Fibrolan has broad experience in the development, production, delivery and long-term support of communication infrastructure systems. The company specializes in multiple key areas, such as Intelligent Access Networks, Timing and Synchronization and xWDM. These enable Fibrolan to deliver comprehensive solutions for a variety of applications and market verticals. One of the company's most important assets is its ability to deliver optimized solutions to its customers (including dedicated development), in record time, thanks to its start-up attitude, combined with extensive and solid infrastructure and knowledge, based on more than 20 years of experience. Fibrolan has been supplying equipment and services to Telco, Government and other customers since inception, and continues to penetrate new market segments.
For further information: www.fibrolan.com
Source: Angie Communications
Share: